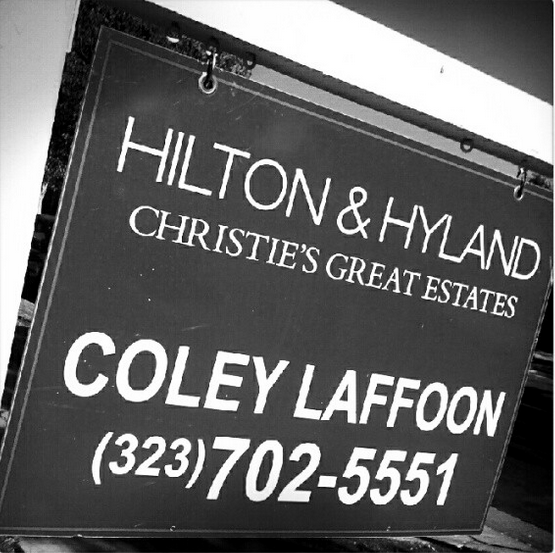 I am writing to wholeheartedly recommend Coley Laffoon, real estate specialistwith Hilton & Hyland.

I met Coley in November 2011. In late June 2013, we closed on my beautiful new home in the Carthay Circle historic area of Los Angeles. After a long search, we bought the perfect house for me. I am grateful to Coley for his hard work on my behalf. I am fortunate to have met Coley early in my search and to have ultimately closed on a home in the competitive, hot Los Angeles market of 2013.

Coley spent more than a year-and-a-half representing me in my search for a house — through the slow market-trough and into the quick upturn of this year. Both market circumstances were difficult with their own challenges. Coley expertly guided me through the entire period with his industry experience, negotiating skills, and special personal qualities that were the key to our success.

The process was long for me because I narrowed down my target area and established key criteria. Inventory was low. I did not expect the down market to change as fast as it did. I am not an impulsive person, and I need a lot of information to make a decision. Coley had to teach me about local market conditions and how best to approach a desired buying opportunity. Somehow — I had the knack for bidding on houses with special challenges, both with the structures and peculiar sellers. Coley worked hard in each case to clear hurdles and avert red flags. Coley always stayed within my comfort zone and was respectful of my limits. Coley always patiently answered my questions and responded to the details that were important to me.

Coley communicates clearly and in a timely manner. Coley always answered my calls immediately or returned messages promptly. Even when on vacation, Coley was available and responsive to me if we had an iron in the fire. You will not find a more attentive, gracious agent.

Please be advised that I am located in San Francisco. Coley conducted our long- distance working relationship with no downside — as if the distance did not matter.



— Ann Rubin, Buyer